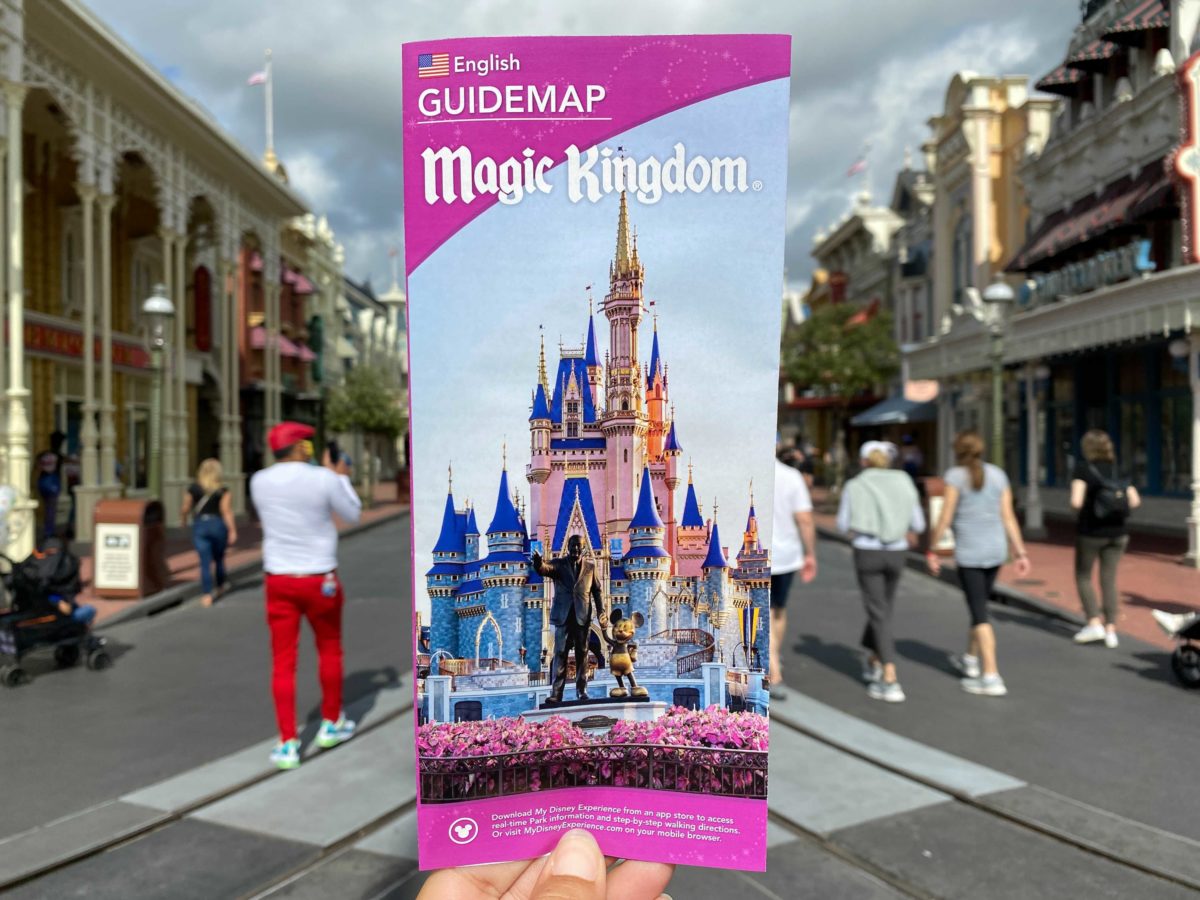 Get More Disney with a Magic Kingdom Map
Walt Disney World Resort includes four epic theme parks, two water parks, entertainment centers, and much more. At 42.47 square miles, it is enormous! It is one of the most-visited entertainment resort complexes in the world. If you think you have "done Disney" because you have visited Disneyland in California, think again. Walt Disney World is 53 times the size of Disneyland.
That makes for lots to see and do, and even a return guest can be overwhelmed by the sheer amount of experiences and choices available. When you're heading out for your dream vacation, you'll want to do and see as much as possible. Our tip is to "know before you go" and create a plan of the top attractions and parks you'll visit. If you want to see Cinderella Castle, get a Magic Kingdom map and start planning.
Every park offers something for every age group, but some are better suited for specific age groups. Our guide to the Magic Kingdom will help you create the experience your little ones are dreaming of.
The most popular Disney park is The Magic Kingdom, inspired by the original Disneyland Park and features many of the same rides and attractions. The Magic Kingdom is home to many of the signature Disney characters and experiences, and it is undoubtedly the best choice for toddlers. This is where they will have the most magical experience and create memories that will last a lifetime.
There are tons of attractions, plenty of opportunities to meet their favorite Disney characters, and plenty of Disney wonders in each of the six "lands." There are plenty of rides for the more timid ones where they can sit with Mom or Dad. A great starter ride is Peter Pan's Flight or Dumbo the Flying Elephant. For the elementary school-aged kids, the park delivers fairy tales with princesses and princes and pirates galore. And the coasters include some great "starter" options like Big Thunder Mountain Railroad or The Barnstormer.
A look at the six lands of Disney's Magic Kingdom
The best way to navigate this exciting park and ensure that you hit all of your favorites is to get a Magic Kingdom map. This most popular of all the theme parks has over 40 memory-making attractions, themed dining as only Disney does, shopping and experiences that all make it "The Most Magical Place on Earth."
Disney's Magic Kingdom Park is divided into six themed lands, each with a different vibe and focus.
Main Street, U.S.A is the first area you'll see when you enter the park. Jump on the Walt Disney World Railroad for a tour of the park, or wander around to explore this turn-of-the-century town on foot. The iconic Cinderella Castle sits at the end of the street and is a must-see for all visitors to this exciting park. As you stroll Main Street, you'll encounter the friendly "residents," hear the Main Street Philharmonic, catch the Disney Festival of Fantasy Parade, and dance along with the Street Party. Join the Flag Retreat, a daily patriotic ceremony of lowering and folding our flag while listening to patriotic favorites.
Adventureland is one of the smaller lands and is home to many of the classic attractions Disney is known for. Ride the Jungle Cruise, a 1930's steamer to explore the rivers of Asia and Africa, or hop on The Magic Carpets of Aladdin to soar around a huge genie bottle. Another top attraction is Pirates of the Caribbean. You can also join Captain Jack Sparrow and his crew for an interactive adventure at A Pirate's Adventure: Treasure of the Seven Seas.
Fantasyland leaves the real world behind and takes you into a land of fantasy based upon popular Disney movies. It is also home to iconic memory-making attractions like "it's a small world". Other toddler favorites are Dumbo the Flying Elephant, where you'll ride through the air on everyone's favorite elephant, the Mad Tea Party for a spin around a huge teapot, or Enchanted Tales with Belle, where you get to be a part of Beauty and The Beast. Seven Dwarfs Mine Train is a gentle and kid-friendly roller coaster that ends up with a drop into Snow White's house in the woods.
Frontierland takes you into the Wild West for classic rides and entertainment. Big Thunder Mountain Railroad takes you on a wild ride in a runaway mine train. Country Bear Jamboree is a hoedown with 20 animatronic bears. Splash Mountain is a memory-maker log ride where you'll splash through curves and dips. Explore Tom Sawyer Island and its caves, forts, and treehouses for a peaceful and fun attraction.
Liberty Square may be the smallest of the lands but it is home to Haunted Mansion, which is one of the top attractions in Disney World. You can also take the Liberty Square Riverboat tour on a triple-decked paddlewheel around Tom Sawyer Island and Fort Langhorn.
Tomorrowland is themed around a vision of what the future may look like. It is home to some of the most popular attractions like Space Mountain, where you'll shoot past shooting stars and satellites into outer space. Tomorrowland Speedway lets your little ones drive on a kid-sized racetrack in a powered car or Buzz Lightyear's Space Ranger Spin to help Buzz defeat Zurg.
The park is filled with character encounters, fun shops, and lots of entertainment and themed dining and will create memories that will last a lifetime. Read on for a Guide to Disney World Rides.
"The World's Most Magical Celebration"-Disney World's 50th Anniversary Celebration
Beginning on October 1, 2021, Disney kicks off its 50th Anniversary Celebration across all four parks with special features and events. Stay tuned for the calendar of special events if you are traveling after October 1. Enjoy Disney Enchantment, a spectacular with Disney music, fireworks, and immersive projection effects from Cinderella Castle down Main Street U.S.A. Beacons of Magic will have Cinderella Castle lighting up the park and the sky with pixie dust, and keep your eyes peeled for 50 characters cast in gold across all of the parks.
To read more on Disney World's 50th Anniversary Celebration, click here!
Planning is everything!
The Magic Kingdom covers 107 acres, and with dozens of rides and attractions, there is plenty to do. Get out your Magic Kingdom Map and get familiar with the attractions. Some will be more appropriate than others for your gang, and you'll want to be sure to hit all the favorites of your little ones. Good planning can help you hit the most popular rides when the lines are shortest, find the perfect spot to rest and grab a bite to eat, and will limit lots of backtracking between and within the six lands. Here are our tips for The Best Time to Go To Disney
Get your official Magic Kingdom Map
Disney likes to make it easy for its visitors to have a magical visit. You can get a current Disney World's Magic Kingdom map on the site, and it is downloadable. We suggest you circle your favorites and bring your map to the parks with you. Suppose you forget your map at home, no worries. You can obtain a map at the gate of every park and many of the restaurants and kiosks.
Interactive Map on the "My Disney Experience" App
For a super handy Disney map, download the "My Disney Experience" app on your phone. An interactive map of the entire resort will pop up, and you can zoom in and out and scroll around until you locate the Magic Kingdom. You can pinch it to zoom in on specific attractions. This map is updated frequently and has lots of great features like wait times for attractions.
Top Tips for Visiting the Magic Kingdom
Traveling with kids is never easy. Here are Disney's tips for navigating the Magic Kingdom with fewer tears and more magic. Travel light! Only bring what you need and rent a locker to store the rest until you need it.
Child Swap- Many adult-sized rides offer "child swap" where adults can take turns waiting in line with little ones too small to ride and then switch out with another guest without waiting in line again.
Stroller rentals are available at all the parks. Check your Magic Kingdom map for stroller rental locations.
All parks have diaper-changing stations in men's, women's, and family restrooms.
Know the minimum heights required for some of the rides. This information is available on each theme park's website.
Hydrate! Florida heat can be overwhelming.
Dress in layers for temperature changes.
Plan for rain by bringing inexpensive rain ponchos.
The Magic Kingdom is known to be the most popular of the parks and draws crowds of over 17 million visitors annually. But don't despair! There is still plenty of room for you. The park only fills up to half of its capacity of 100,000 people on most days. Get your Disney World Magic Kingdom map, have a family meeting, and start planning your visit to the "Most Magical Place on Earth."
You can buy your tickets to the Magic Kingdom here!