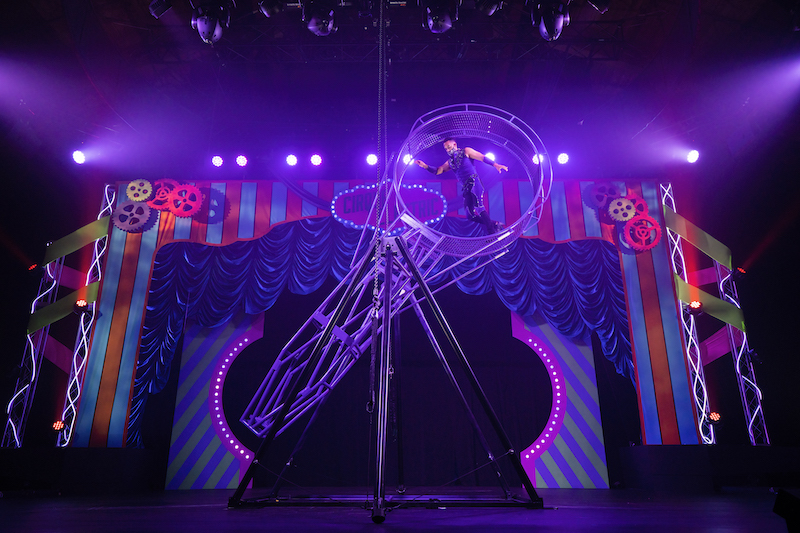 Busch Gardens Tampa Bay is introducing an all-new seasonal event, Summer Celebration, which begins on May 27th through August 7th, and a fan-favorite show, Cirque Electric, will return to the Stanleyville Theater with acrobatic stunts. It will also include a brand new Gwazi beat show with dancers, drums, and stilt walkers, three DJ locations, and an all-new fireworks and fountains spectacular.
Summer Celebration Fireworks Celebration
Every Friday, Saturday, and Sunday night (including Memorial Day and the fourth of July) at 9:15pm on the Festival Field, don't miss an all new vibrant show filled with fountains, fireworks, an explosive ray of colors, special effects, lasers, and colorful pyrotechnics. Weather permitting.
Returning Cirque Electric
A back by popular demand favorite show, Cirque Electric, will run Friday to Monday at 3pm, 5pm, and 7pm to the Stanleyville Theater. All new music will debut alongside cirque-style performers and an electric ensemble of dancers.
All-New Gwazi Beats
Gwazi Beats is an all new atmosphere show with a combination of dancers, drums, stilt walkers, and a pulse pounding display of dance and music.
3 DJ Party Plazas
An open-air newly themed dance party presented by Coca-Cola in three locations will take place in Gwazi Plaza and after 5pm at SheiKra Plaza or in Cheetah Hunt Plaza for a more kid friendly celebration.
Complimentary Beer Samples
Guests age 21 and older can celebrate the summer season from May 31st through August 7th with two complimentary 7 oz. beer samples per day at Pantopia Drinks and Snacks.
The Moroccan Delights ice cream parlor will also re-open with handcrafted shakes, specialty sundaes, and ice cream floats.
Turn It Up Show
Daily performances of world-class ice skating will take place inside the Moroccan Place Theater as an award winning show with contemporary performances, eclectic pop music, and aerial moments.
Finish the Phrase & The Kings of Neon
Two refreshing indoor shows at Dragon Fire Grill will be offered with guessing the lyrics to songs performed a-cappella on Tuesdays and Wednesdays and on Thursdays and Fridays, you can enjoy a performance from the Kings of Neon band.