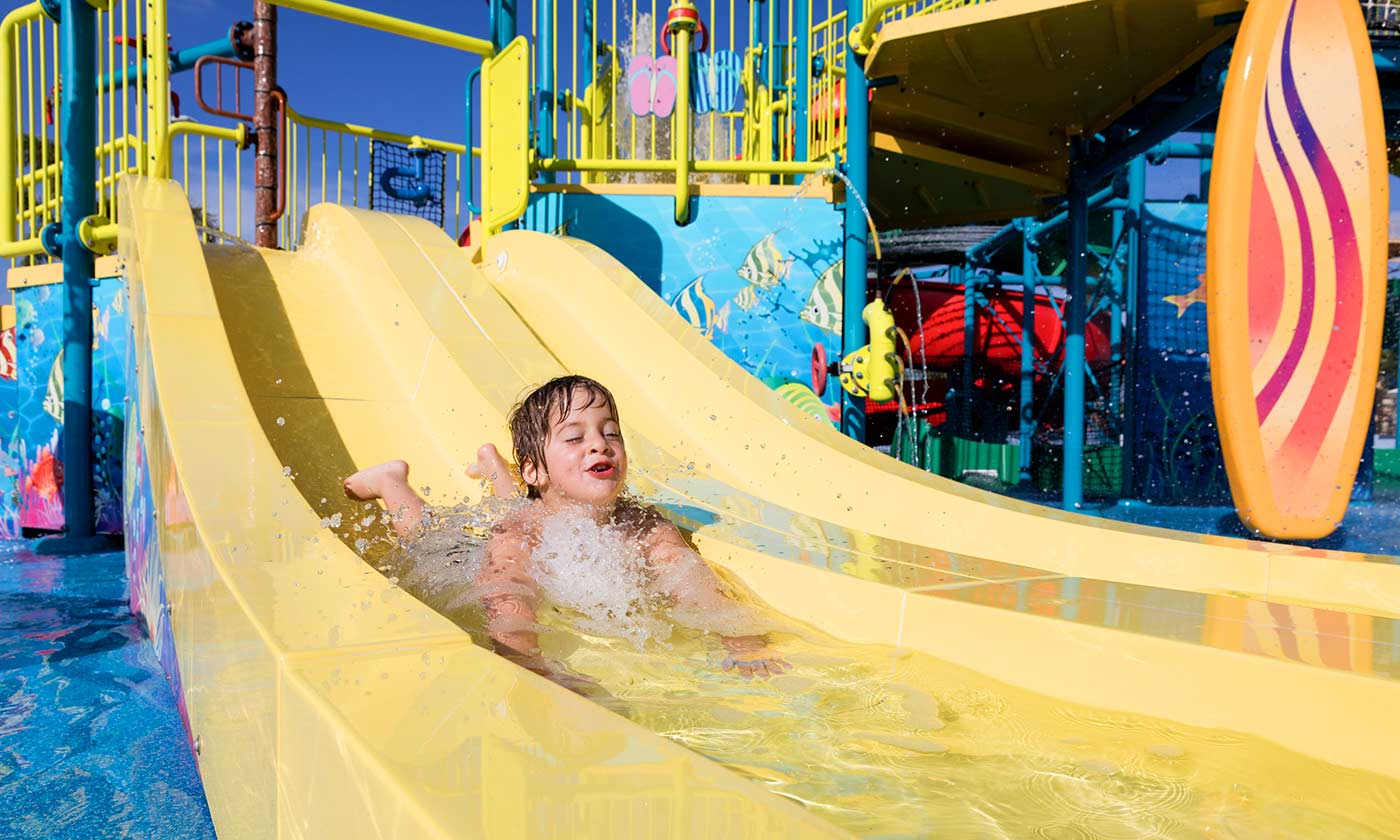 When you bring your family to the Encore Resort in Orlando, prepare to be amazed at all of the fun amenities that come along with being a guest. Spanning over ten acres, the Water Park at Encore Resort has something for everyone to have fun in the sun.
SURFING SAFARI KIDS' SPLASH AREA
This area of the water park is perfect for the smaller members in your group.
The little ones have their choice of four water slides, precisely designed for younger guests under 48 inches tall. They'll enjoy water cannons, dumping buckets, bridges to climb on, and water jets to splash around in.
THE ARCADE
Sometimes the kids want an air-conditioned break. At the WaterPark at Encore Resort, guests have such an oasis. Located in the AquaPark, the Encore Arcade features a large air-conditioned game room with all the best recreational gaming favorites. Challenge your kids to a fierce game of air hockey or have a high-score competition on the pinball machine. Enjoy Dance Revolution and multiple racing games. If you prefer one of the classics, Pac Man and Centipede are waiting.
THE WATER SLIDES
If you consider yourself a thrill-seeker, you're in luck. The Water Park at Encore Resort has some of the area's most adventurous water slides:
Stormchaser – Not for the faint of heart! This thrilling slide starts with a heart-pounding countdown before the 60-foot vertical drop!
WaveRacer – Grab a mat and let the competitive water slide racing begin! Race your friends and family to the bottom for a timed finish
Tsunami – This water slide offers fast and fun twists and turns through the Dark Tsunami tube! Brave this one as a solo mission or take a partner for a tandem adventure
SHARK & MERMAID SWIM CLASSES
If you or members of your family are new to swimming but still want to enjoy all the fun the water park has to offer; you can get proper instruction during your stay! The Encore Mermaid and Shark swim classes use fins to help little ones feel like sharks and mermaids themselves.
Traditional lessons are also available. These are designed to build confidence in a safe and certified environment. Book private setting lessons or jump in with a group lesson. Pricing varies accordingly, but knowing this instruction is available, can put your mind at ease if anyone has water uncertainty.
RELAX BY THE POOL
Lounge and relax in style at the large swimming pool on location at the resort. Enjoy a covered cabana, available for rent, and make poolside life feel more like a luxury. Hideaway with up to six people and have your own set of chaise lounges, two couches, watch your own television, sip on complimentary water from the mini-fridge, or just nap under the ceiling fan and enjoy your stress-free day away.
Staying at the Encore Resort has far more benefits than a traditional hotel stay. You'll never be bored with the Water Park, Arcade, and fun activities.
Vacation rentals can bring the best of both action-packed and relaxation vacationing in one, convenient location. To learn more about booking your next family vacation rental in the Orlando, Florida area, contact us!