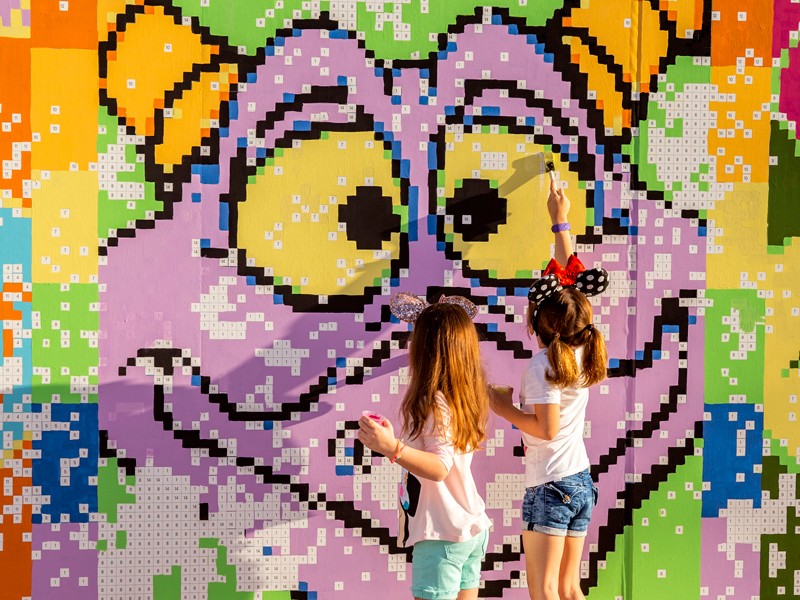 Beginning January 14th through February 21st, Epcot's International Festival of the Arts will celebrate the creation of art and cuisine.
Performing Arts
Animation Academy- The America Gardens Theatre will teach you how to draw a Disney character from an animation artist.
Visual Art in Performance- An on-stage performance by a guest visual artist painting your favorite Disney characters.
Disney on Broadway Concert Series
Every two weeks, different pairs of Disney on Broadway stars will perform some of the songs they helped make famous in the American Adventure pavilion. You will see stars from Broadway's Aladdin, Beauty and the Beast, Freaky Friday, The Little Mermaid, Frozen, Newsies, Tarzan, Mary Poppins, and The Lion King.
Visual Arts
Artful Photos Ops- An homage to Frida Kahlo in the Mexico Pavilion, Cafe Terrace at Night and Sunflowers by Vincent Van Gogh on the Bridge to World Showcase, and the Mona Lisa by Leonardo da Vinci between the Italy and Germany Pavilions are just some of the examples offered.
Expression Section: A Paint by Numbers Mural- Open daily from 11 am-5 pm at World Nature near the Land.
Festival Markets featuring artists' masterpieces and galleries including POP Gallery, Thomas Kinkade, and WonderGround Gallery just to name a few.
Festival exclusive merchandise
The Culinary Arts
Artist's Table (American Adventure) will offer dishes like beef Wellington and pan-sear scallops.
New to the festival this year, Craftsman's Courtyard (near Disney Traders) will have savory seafood and refreshing salads inspired by the coast of California.
Deco Delights (near Port of Entry) is inspired by the roaring 20s to the bright pastels of Miami Beach where you can satisfy your sweet tooth.
Deconstructed Dish (also near Port of Entry) fragments classic dishes such as a BLT, key lime pie, and French onion soup.
Donut Box (near Test Track) has exactly what its name is, delicious donuts.
El Artista Hambriento (Mexico) will offer dishes such as chocolate tacos and carne asada.
Goshiki (Japan) celebrates the "5 colors" of Japanese cuisine including sake and sushi donuts.
Gourmet Landscapes (Canada) has the finest ingredients farmed and foraged from the land including wild mushroom risotto and beef carpaccio.
L'Art de la Cuisine Francaise (France) has delicious French treats and baked goods such as a black winter truffle croissant and warm brie in a bread bowl.
L'Arte di Mangiare (Italy) is prepared with rich color and dramatic flavors, serving up ravioli and arancini.
The Painted Panda (China) is inspired by Chinese art and offers dishes like General Tso's chicken shumai and char siu pork buns and beverages like bubble tea.
Pastoral Palate (Germany) includes hearty dishes like wild boar cassoulet and a red wine-braised beef short rib.
Pop Eats (Near Port of Entry) highlights the pop art of the 20th century with bites like the ever-popular Pop't Art, a colorful almond frangipane cake, and a classic tomato soup with grilled cheese.
Tangierine Cafe: Flavors of the Medina (Morocco) offers grilled kebabs, almond phyllo pockets, and chai tea mint mimosas.
Vibrante & Vivido: Encanto Cocina (Between Morocco and France) is inspired by Disney's newest film Encanto with Columbian cuisine including spicy ajiaco soup and house-made empanadas with chorizo.
Wonderful Walk of Colorful Cuisine
Enjoy 5 artistic dishes while collecting the corresponding stamps and receive an artist palette cookie. The colorful dishes include blood orange-braised beet carpaccio, deconstructed key lime pie, house-made chorizo and potato empanada, pan-seared scallops with vanilla-butternut squash puree, and a vanilla donut with strawberry sugar and ice cream.
Fun for All Ages:
Figment's Brush with the Masters- Help Figment learn about art around the World Showcase on a scavenger hunt where he is hiding inside famous works of art. Available while supplies last, additional cost to participate.
Kid's Chalk Art- Open daily from 11 am-4 pm at World Nature near the Land.
Purchase your tickets here!