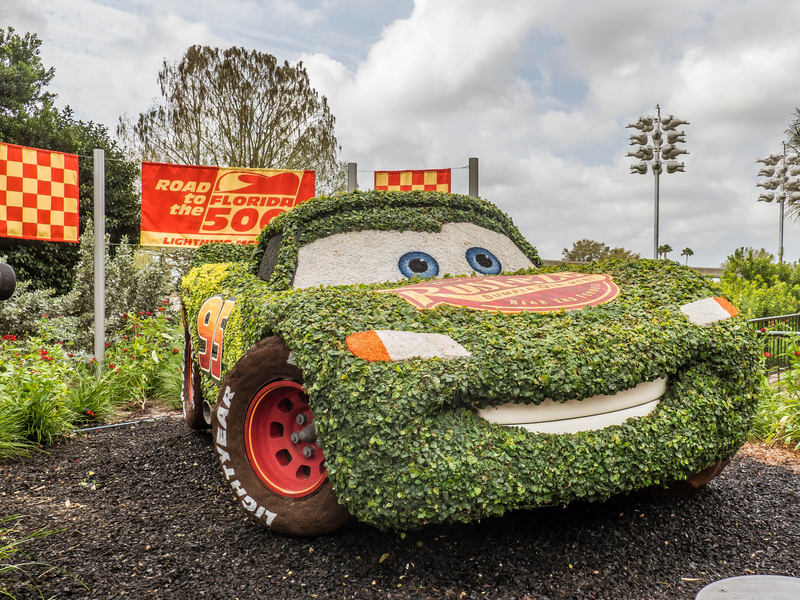 Epcot will once again host their International Flower and Garden Festival on March 1st running until July 5th and is included with your park admission.
Topiary Displays, Exhibits, & Gardens- Topiary sculptures are made of our cherished Disney characters that can be admired while strolling through breathtaking gardens. Examples are Buzz Lightyear outside of Mission: SPACE, Lady and the Tramp inside of the Italy pavilion, Bambi, Thumper and Flower near the Canada pavilion, and Tinkerbell near the United Kingdom pavilion.
New this year a Princess Tiana topiary has been added as well as your favorite characters from Encanto including the Madrigal sisters and Antonio.
Giant Mickey and Minnie flower beds will be located around the lagoon near World Celebration made up of green, purple, yellow and red flowers.
The Global Garden in the Japan pavilion will have Bonsai trees in the Zen garden along with bamboo structures including archways with Mickey and Minnie Mouse wind chimes and water fountains.
Outdoor Kitchens- All around Epcot you will find outdoor kitchens with a specialty menu including Brunchcot, Epcot Farmers Feast, the Citrus Blossom, Florida Fresh, Trowel & Trellis hosted by Impossible, the Honey Bee-stro hosted by National Honey Board, Pineapple Promenade, and a booth at each of the World Showcase countries.
Garden Graze will once again take place, a food stroll where you can receive a tasty treat at the end at Pineapple Promenade once you try 5 items and collect a stamp in your festival passport.
Merchandise Collections- Festival pop-up markets are located across the park where you can commemorate your visit with festival merchandise including collections such as Orange Bird, Snow White, Figment and Annual Passholder.
Fun for Kids of All Ages- Butterfly Landing presented by AdventHealth is located near Imagination! in World Nature where you can see many species of butterflies up close.
NEW Outdoor Escapes Play Garden presented by OFF! is a camp-themed garden in World Discovery where the little ones can play, jump and climb.
Spike's Pollen-Nation Exploration is where you will follow Spike the Bee on his pollination trail around Epcot once you purchase a map and stickers at select merchandise locations at an additional cost. At the end of your journey, you will receive a surprise from Disney Traders or World Traveler.
Beginning March 13th, an Egg-Stravaganza scavenger hunt begins where you can purchase a map and stickers at select merchandise locations for an additional cost and you have to search high and low for hidden eggs around Epcot. At the end of your journey, you will receive a surprise from Disney Traders or World Traveler.
Garden Rock Concert Series- Taking place at the America Gardens Theatre in the American Adventure Pavilion at 5:30pm, 6:45pm, and 8pm.
The schedule includes the following:
March 1st-2nd: Glass Ceiling
March 3rd-4th: Journey former lead vocalist Steve Augeri
March 7th-9th: Audio Exchange
March 10th-11th: Tommy DeCarlo
March 12th-13th: Smash Mouth
March 17th-18th: Mike DelGuidice
March 19th-20th: Blue Oyster Cult (New this year!)
March 21st-23rd: The Vybe
March 26th-27th: The Pointer Sisters
March 28th-30th: The Female Collective
March 31st: Luis Figueroa (New this year!)
April 1st-2nd: Piso 21 (New this year!)
April 7th-8th: STARSHIP featuring Mickey Thomas
April 9th-10th: Don Felder, formerly of the Eagles
April 11th-13th: Foregniers Journey
April 14th-15th: Blue October
April 16th-17th: Switchfoot (New this year!)
April 18th-20th: Evolution: Motown
April 21st-22nd: A Flock of Seagulls
April 23rd-24th: Jo Dee Messina
April 25th-27th: Hooligans
April 28th-29th: Ambrosia with Peter Beckett, the voice of Player
April 30th-May 1st: Kool & The Gang
May 2nd-4th: The Finesse Party Band
May 5th-8th: Herman's Hermits starring Peter Noone
May 9th-11th: Latin Ambition
May 12th-15th: The Orchestra starring former members of ELO
May 19th-20th: A.J Croce: Croce Plays Croce (New this year!)
May 21st-22nd: Casting Crowns (New this year!)
May 26th-27th: Jason Scheff, longtime lead singer of Chicago (New this year!)
May 28th-29th: Rick Sprinfield
May 30th-June 1st: Champagne Orchestra
June 2nd-5th: Plain White T's
June 6th-8th: Glass Ceiling
June 9th-10th: The Spinners
June 11th-12th: The Commodores
June 16th-17th: Vertical Horizon
June 18th-19th: Tony Orlando
June 20th-22nd: Foregniers Journey
June 23rd-26th: Simple Plan
June 30th-July 1st: Living Colour
July 4th-5th: Evolution: Motown
Jeeves Florida Rentals is a full-service vacation rental & property management company located in Central Florida. For over 13 years we have managed over 600 luxury Orlando vacation rental homes and condos just steps away from the Orlando Attractions like Disney World, Universal Studios, and SeaWorld. Our inventory consists of properties ranging from 2-bedrooms to large 14-bedroom mansions in the Kissimmee and Orlando area. To take a look at what's available for your next vacation to Orlando, click here!
Jeeves also offers discounted theme park tickets through Kissimmee Guest Services, click here to purchase!