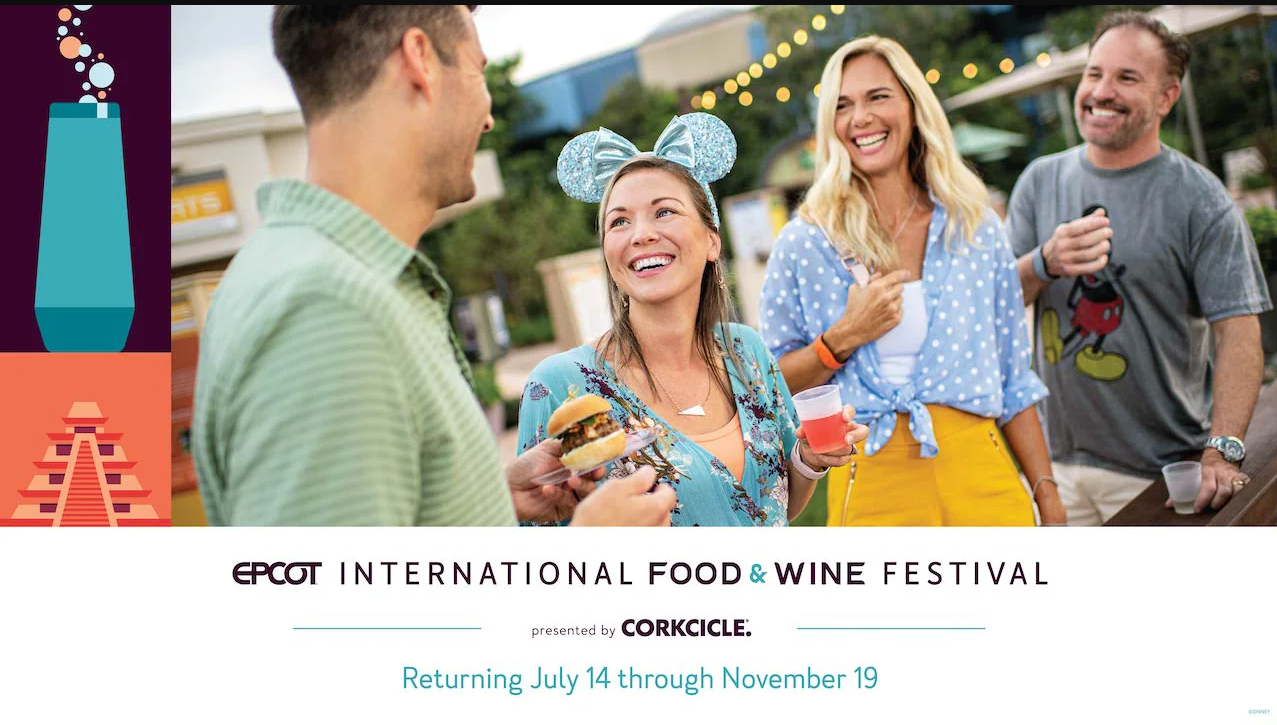 Epcot's International Food and Wine Festival will return this year beginning July 14th through November 19th.
Global Marketplaces
6 continents offer mouthwatering delicacies from chefs worldwide. The global marketplaces include The Alps, Australia, Appleseed Orchard, Belgium, Brazil, Brew-Wing at the Odyssey, Canada, Coastal Eats, China, Flavors From Fire, France, Earth Eats hosted by Impossible, Germany, Greece, Hawai'i, India, Ireland, Italy, Hops & Barley, Japan, Kenya, Mac & Eats, Mexico, Spain, The Swanky Saucy Swine, Shimmering Sips hosted by Corkcicle, The Noodle Exchange, and Tangierine Cafe: Flavors of the Medina.
Emile's Fromage Montage
Using a Festival Passport as a guide, purchase and enjoy any 5 of the featured dishes and collect a stamp at each booth to track your progress from select global marketplaces. Once completed, visit the Shimmer Sips marketplace for a specialty prize unique to the Festival. The menu items include crispy barbecued pork rinds with pimento cheese, smoked corn beef, crispy paneer with mango-curry ketchup, raclette, Schinkennudeln, griddled cheese with pistachios and honey, Canadian cheddar and bacon soup, passion fruit cheesecake, mac & cheese, and Pao de Queijo.
Eat to the Beat Presented by Florida Blue Medicare
Nightly concerts starting at 5:30 pm, 6:45 pm, and 8 pm will take place at the America Gardens Theatre where you can see big-name bands and singers on Friday to Monday nights and local musicians on Tuesdays to Thursdays. The schedule includes artists such as Baha Men, Joey Fatone & Friends, Journey former lead vocalist Steve Augeri, Kris Allen & David Cook, Hoobastank, Hanson, and Boyz II Men.
Festival Mementos, Pins, and Disney Gift Cards
Creations Shop and other locations across Epcot will offer official event merchandise including home decor, apparel, and trading pins. Grab an exclusive wristlet while in the parks with a pre-loaded gift card to enjoy all the food you want with a quick scan.
Remy's Ratatouille Hide & Squeak
Kids of all ages can embark on a Ratatouille-inspired scavenger hunt around the festival in World Showcase to find hidden statuettes of Remy. Purchase a map and stickers from select Festival merchandise locations including Port of Entry, World Traveler, and Pin Traders Camera Center. Once all the appropriate stickers have been placed to a location on the map, you will receive a special surprise!