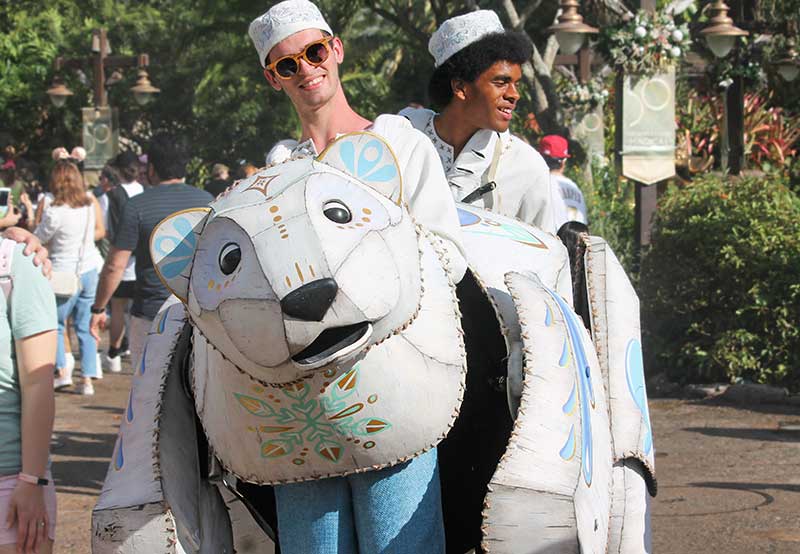 Disney's Animal Kingdom celebrates the holidays through the new year with Merry Menagerie, a Santa Clause and Discovery Island Drummers Festive Flotillas, and Tree of Life Awakenings: Holiday Edition, as well as offers holiday décor.
Merry Menagerie- Artisan-sculpted puppets of arctic animals such as reindeer, penguins, foxes and polar bears wander through Discovery land and are brought to life by puppeteers.
Santa Claus and Discovery Island Drummers Festive Flotillas- Floating down Discovery River, you can see Santa Claus through December 24th and a colorful group of percussionists.
Tree of Life Awakenings: Holiday Edition- Each evening the Tree of Life shimmers and sparkles accompanied by a heartwarming musical score.
Holiday Décor- Special holiday touches can be found at the front of the park with a giant Christmas tree as well as throughout Discovery Island you can see animal-inspired luminaries line the rooftop.
Holiday Treats- Returning to Disney's Animal Kingdom this year, you can enjoy the menagerie cupcake at Flame Tree Barbecue, Restaurantosaurus, and Pizzafari.
Holiday Meet and Greets- Dressed in their holiday attire, you can meet Mickey and Minnie Mouse at Adventurers Outpost as well as characters from Donald's Dino-Bash in Dinoland USA.
Jeeves Florida Rentals is a full-service vacation rental & property management company located in Central Florida. For over 13 years we have managed over 600 luxury Orlando vacation rental homes and condos just steps away from the Orlando Attractions like Disney World, Universal Studios, and SeaWorld. Our inventory consists of properties ranging from 2-bedrooms to large 14-bedroom mansions in the Kissimmee and Orlando areas. To look at what's available for your next vacation to Orlando, click here!
Jeeves also offers discounted theme park tickets through Kissimmee Guest Services, click here to purchase!