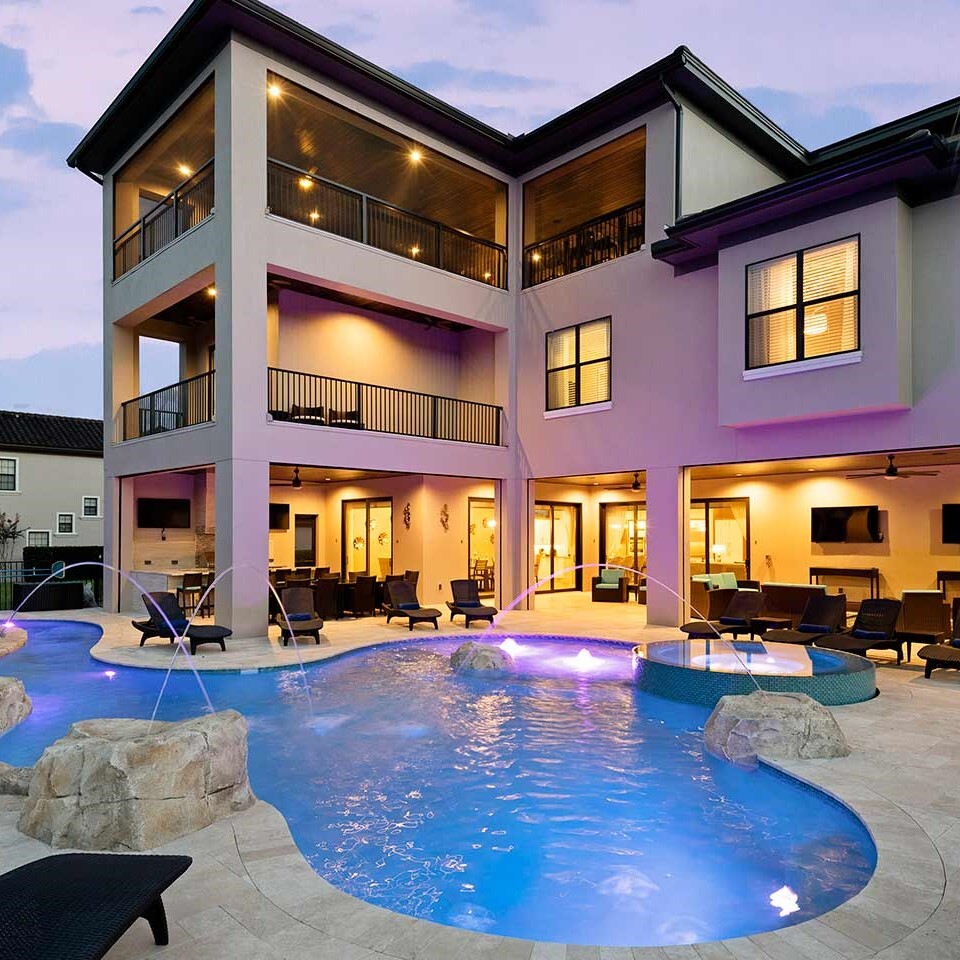 Travel is tiring, whether for work or for play. The lodging you choose for your trip is an important decision for achieving adequate rest and relaxation. With thousands of lodging options in the Orlando area, deciding where to stay can make or break the success of your next visit to Florida. Let's take a closer at why booking with Jeeves Florida Rentals is an attractive option over Orlando area hotels.
Privacy
Sharing a room in a building with more than 2,000 other rooms is like hanging out with thousands of people you don't know. Some Orlando area hotels average between 1,000 - 2,500 rooms. Many of the hotels cater to large events, which can make for a lot of commotion and noise.
With Jeeves Florida Rentals, you rent a privately owned Orlando vacation home. You choose the resort location that is best for your plans, along with the right amenities for your family or group. There's no sharing a lobby or elevator or even passing strangers in the hallway.
The privacy that comes with a Jeeves Florida Rental is unparalleled when compared with area hotels. If spending quality time with your family or concentrating on your business meeting is your top priority, then don't share a building with strangers—invest your lodging dollars in a custom rental home.
Cost Savings
A large part of your trip planning is deciding how many nights you will stay in the Orlando area. Lodging can easily consume a significant portion of your budget. If you think you can't afford to rent a vacation home in a great resort, guess again! Jeeves Florida Rentals actually saves you money when friends and family share the costs.
Reserving a hotel room is costly and often has hidden or associated fees for such things as valet parking and WiFi access. By choosing the right Jeeves rental property for your needs, you get to choose what you want to include in your lodging experience.
Unique Choices
Jeeves Florida Rentals offers unique choices that include amenities for all ages. Golf courses and homes with private pools, home theaters, and game rooms for children are just a few of the options to choose from. Most hotels offer cookie-cutter rooms, all similar in appearance and amenities but at Jeeves Florida Rentals, our homes are unique and privately owned.
In addition to our unique properties, our friendly and professional team excels at customer service. To us, you're not just another guest checking in or out. We care about your experience because we want you to return again and again!
Jeeves Florida Rentals
We're passionate about providing visitors to Orlando with a relaxing and positive lodging experience. Since 2006, we've successfully made thousands of vacation dreams come true.
All of our rental locations are centrally located to Orlando's top attractions, including the world-famous Walt Disney World. There is always something to see and do, making a safe home and a comfortable bed to return to, a top priority.
Experience Orlando
Join our passion for this wonderful part of the sunshine state. No matter the season, we're here to help you relax and to spend time with loved ones, celebrate special occasions, or the business deal you finally secured.
Come see what is new, reconnect with what is old, and experience all that the Orlando area has to offer. Let us help you take the first step toward planning your trip by securing your lodging choice today. For more information about Jeeves Florida Rentals and our services, contact us.
Your vacation is a special time for creating memories. Hotels aren't usually memorable unless they are bad experiences. Make your lodging experience unique by reaching out to us today.