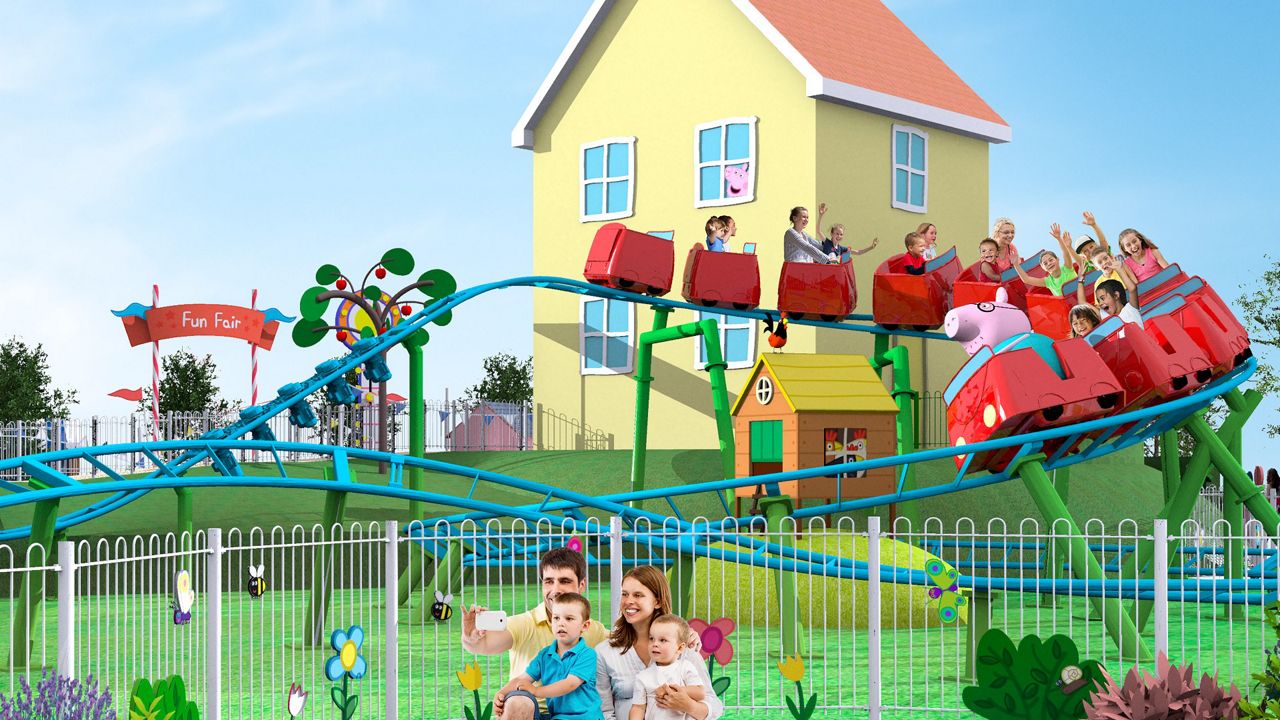 Steps away from LEGOLAND Florida Resort in 2022, the world's first standalone Peppa Pig theme park will debut where you will step into the playful world of Peppa Pig and her friends for the ultimate day of adventure. Opening day is February 24th, 2022.
Exclusively designed for "little piggies", this theme park will provide multiple interactive rides and attractions, themed play areas with a "muddy puddles" splash pad, live shows, and the opportunity to meet Peppa and her family.
Rides
Daddy Pig's Roller Coaster- An unexpected adventure ride in his newly cleaned red car where you take a shortcut to avoid Mr. Bull digging up the road.
Grampy Rabbit's Dinosaur Adventure- Parents can ride along on an epic dino quest where you will see smoking volcanoes and prehistoric mountains.
Grandad Dog's Pirate Boat Ride- Set sail for Pirate Island to build sandcastles and dig for buried treasure.
Mr. Bull's High Striker- Test your strength on a hammer and bell ride. Once the hammer hits the bell, you will lift straight up to the sky and you may be surprised. It is a kid-friendly drop ride.
Peppa's Pedal Bike Tour- Pedal through the pine woods and icy mountains and enjoy the sights, smells, and sounds of the great outdoors.
Peppa Pig's Balloon Ride- Fly high in the sky above the clouds in Miss Rabbit's hot air balloon on this family-friendly aerial carousel ride.
Attractions
Campervan- Enjoy playing in Peppa's family campervan.
Cinema- Flop out on a beanbag and watch some of your favorite episodes of Peppa Pig on the big screen.
Fun Fair Games- Free games for the whole family to enjoy.
George's Fort- Enjoy a maze in Granny Pig's Garden.
Grandpa Pig's Greenhouse- Climb, crawl, and slide through this interactive outdoor playground.
George's Tricycle Trail- A mini-adventure for the little ones to pedal their way around all by themselves.
Madame Gazelle's Nature Trail- A family attraction where you can look for clues to discover who left footprints or look through the binoculars.
Muddy Puddles Splash Pad- Lively play area with spouting fountains and slides.
Mr. Potato's Showtime Arena- Enjoy live shows packed full of songs and games at Mr. Potato's stage.
Peppa Pig's Treehouse- An outdoor play structure where you can join Peppa for a tea party.
Pirate Island Sand Play- Join Danny Dog to dig for buried treasure and build sandcastles.
Rebecca Rabbit's Playground- An outdoor active play area where you can explore the rabbit burrows, discover the carrots, jump, hop, crawl and climb.
Coming to LEGOLAND Florida 2022
Pirate River Quest- Boarding in 2022, LEGOLAND Florida has announced a brand new attraction, Pirate River Quest. It is a family-friendly treasure hunt where you set sail with a crew of LEGO pirates to explore the waters and retrieve the lost treasure that was stolen by mischievous monkeys.