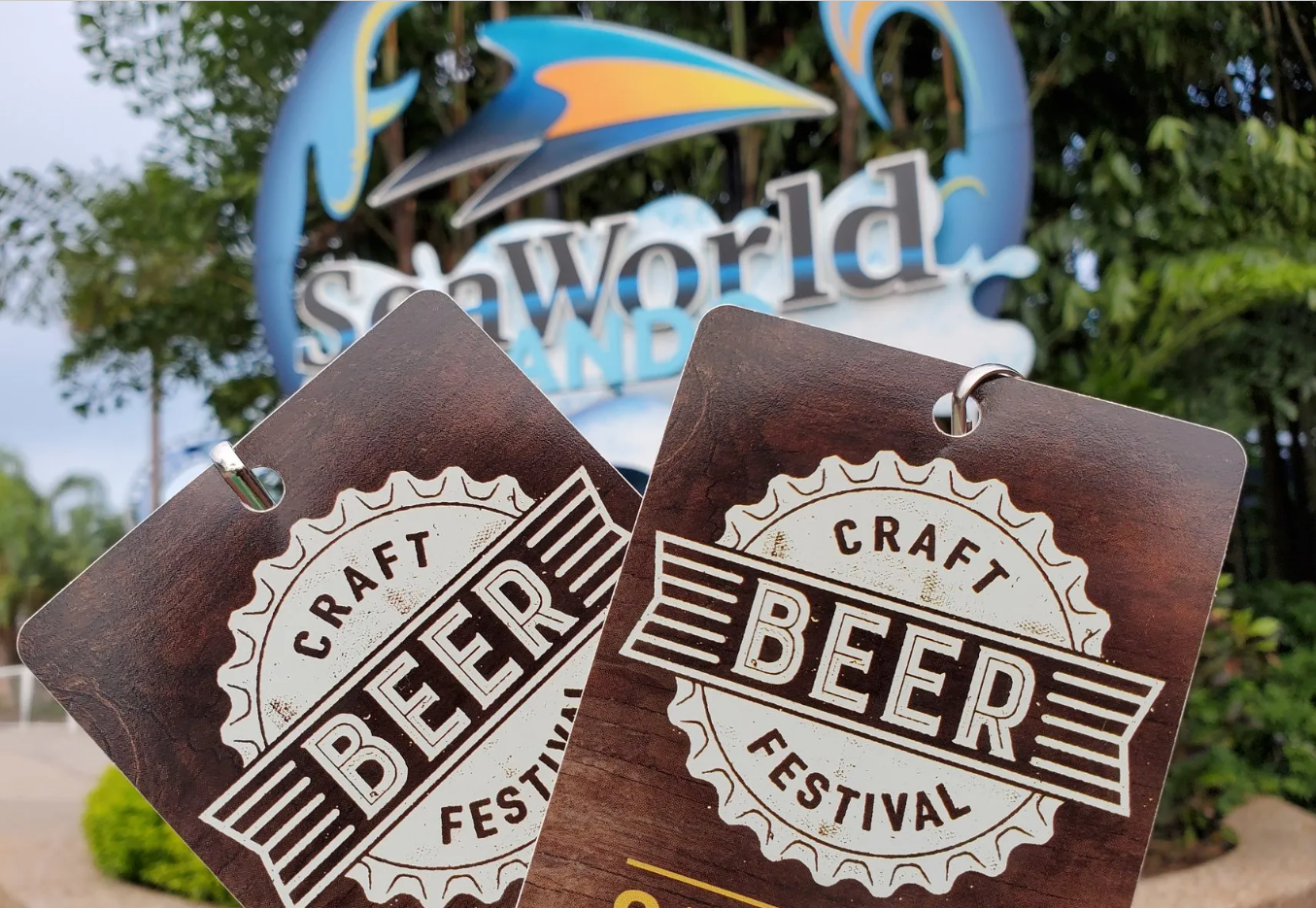 SeaWorld Orlando will once again host a craft beer festival until September 4th, Friday-Sundays from 12pm until one hour prior to park close and is included with your theme park admission. There will be more than 100 craft brews, seltzers, wine, and cocktails both domestic and local Florida favorites and more than 20 food items available for purchase along with festive entertainment.
New food this year includes the pipeline pretzel served with High Stepper American IPA Beer Cheese at Cafe De Mar. Brews and Chews will offer new this year a pulled pork slider with a Funky Buddha-infused barbeque smoked pork, cheese curds, and boozy s'mores with a Hefeweizen marshmallow fluff. Wish you were Beer will have a new short rib poutine with a 12 hour braised pale ale short rib available for purchase as well as pork belly & kimchi. Distilled Delights will also offer a new Mezcal tasting as well as a wine tasting at Off the Vine. Go for the Grain will have a new Michelada shrimp ceviche available for purchase this year. New this year to Sam Adams Best Bites, street corn and a churro cheesecake with be offered. Be Malty, Not Salty, will have a new beer mug pretzel and Wisconsin bratwurst available for purchase. Donut Forget my Beer will offer three new food items, a Guinness-glazed cronut, Kona-glazed donut with bacon and Kona-glazed donut holes.
New Orleans Corner will offer a returning favorite, beignets with a Guinness chocolate ganache. The walking taco, a favorite, will also return to Go for the Grain as well as a Maduro Brown ale cupcake. Be Malty, Not Salty, will have a returning favorite, a pretzel wrapped bratwurst.
Pub Grub will offer a reimagined 60 minute IPA dog with IPA infused sauerkraut and beer cheese. A reimagined chocolate bourbon pecan pie will also be available for purchase at Wish You Were Beer. Sam Adams Best Bites will offer reimagined birria beef tacos with 8 hour braised Sam Adams Oktoberfest guajillo Chile beef.
Drink locations include Flamecraft Bar, Barley Barrel, Larger Than Life, Hops & Dreams, Distilled Delights, Off the Vine, Sweet & Sour, Waterway Bar, Ale Yeah, Mama's Pretzel Kitchen, Beer Garden, and Glacier Bar.
Food and drink locations include Cafe De Mar, Brews and Chews, New Orleans Corner, Pub Grub, Wish you were Beer, Go for the Grain, Sam Adams Best Bites, Be Malty Not Salty, and Donut Forget my Beer.
Jeeves Florida Rentals is a full-service vacation rental & property management company located in Central Florida. For over 13 years we have managed over 600 luxury Orlando vacation rental homes and condos just steps away from the Orlando Attractions like Disney World, Universal Studios, and SeaWorld. Our inventory consists of properties ranging from 2-bedrooms to large 14-bedroom mansions in the Kissimmee and Orlando area. To take a look at what's available for your next vacation to Orlando, click here!
Jeeves also offers discounted theme park tickets through Kissimmee Guest Services, click here to purchase!