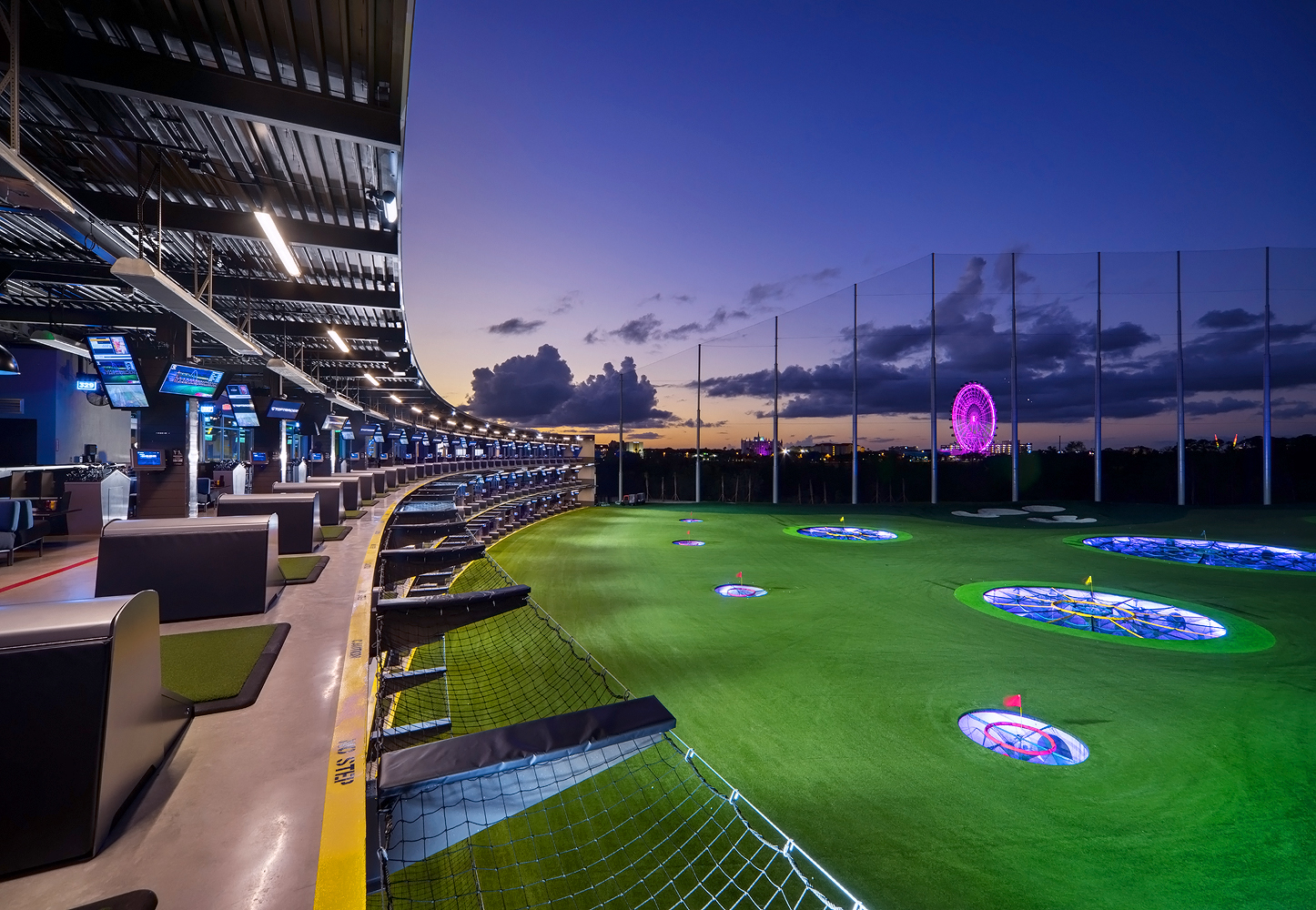 Topgolf Orlando Fl. is the perfect entertainment destination for date night, family fun, or your special event. Get your gang together and tee it up at this unique venue that features golf games for every skill level, dining with chef-inspired menus, a full-service bar, and plenty of space for your entire group.
This vibrant destination is all about the fun, but even experienced golfers can "take a lesson" and improve their game from the latest ball-tracking technology. Everyone can participate in this fine sport without the headache of looking for a lost ball or the foursome behind you breathing down your neck. The climate-controlled hitting bays, music, and food all make for a great night of competitive fun.
Topgolf is a 65,000 square foot facility that features 102 separate hitting bays over three floors, an outfield with targets, a rooftop terrace, a fun bar, and a full dining menu. Imagine a typical driving range that would be 250 yards long and 100 yards wide. Then add three tiers of bays to hit from with pie-shaped targets at various distances and positions. Tag on a microchip to your golf ball to track your shot, and you are ready!
Topgolf Orlando challenges players of all levels, and the immediate feedback you'll get on every golf shot is sure to help you improve your game.
Your admission (which they refer to as a membership) gives you access to the free usage of clubs, score tracking, and other special perks. Opt for a private or group lesson to get your start if you choose and get help with club fitting and additional coaching. Choose from a broad selection of games, and don't miss the virtual courses that let you "play" iconic courses like Pebble Beach.
As for the kids? No worries! The KidZone will keep them busy with complimentary Xbox, shuffleboard, foosball, and more.
1- Play Golf Rain or Shine, Night and Day
Only Topgolf lets you play your favorite game rain, or shine. There are no worries about the wind, heat, or the weather "raining on your parade" when you are playing in these climate-controlled bays, enjoying your favorite libation, and listening to great music that brings the party atmosphere. And there's no waiting for the beverage cart with your own Bay Server and the lively rooftop, serving up your favorite drinks.
You'll rent a bay (or more) by the hour and get unlimited golf hits. Each bay can accommodate up to six players and is available on a first-come, first-serve basis. Relax in your full-service booth until it's your turn to step up, take your stance and let it rip as you aim at targets in the outfield. Each player will purchase their own membership card, which you'll use for scorekeeping. The TV in your bay will display the details of your hit like the accuracy and distance, flightpath, ball height, and speed, and you can get an instant playback of your shot.
Always check for current hours, but they are currently open daily Monday through Thursday, 10 am 11 pm, Friday and Saturday, 10 am-1 am, and Sunday 10 am-11 pm. . Pricing will vary by time of day, and their website displays current wait times.
2- Perfect For All Skill Levels
No experience necessary! Topgolf has games for all skill levels.
Topgolf is the signature game where players score by hitting balls into any target. Accuracy and distance count here! This game is best for 1-6 players.
Top Pressure is an intermediate game best for 1-4 players. This game tests your accuracy and touch by hitting at all nine sections within the yellow target. Point values multiply as you close out the first level. Score at least 30 points and unlock Advanced Top Pressure, which you will be able to unlock again on your next visit within 30 days.
Topshot Intermediate will challenge you to hit four different color-coded zones. Accuracy is the key to this one. This game is good for 1-6 players.
Angry Birds Topgolf uses the famous characters to smash down structures, defeat pigs, and earn points and stars. This one is perfect for family fun.
Quick 9 Novice is perfect for those new to golf. You'll get three shots at each of three different targets and "close does count." Your last shot gets double points, so hit it straight.
Top Scramble is fun for 2-4 players. You'll complete one-to-one, on a level playing field as you split into teams and use the best team score on each ball.
There are several more games for carrying levels like Top chip for fans of the short game, Top drive for the power hitters, and Jewel Jam, which is a unique game for intermediates.
For the pros, play some of the world's most iconic golf courses like Pebble Beach, St. Andrews, Spanish Bay, and Spyglass Hill right from your bay. Play 9, 18, or just the holes you want, and set handicaps to level things out.
3- Great Family Fun Outside of the Parks
Topgolf Orlando provides a great family experience outside of the parks. Great for any weather and day or night, and the littlest ones will enjoy the Kidzone for kids 12 and younger. The regular games are also an opportunity to introduce them to the world of golf. Enjoy dinner, the music, and games for a fun night for all.
4- Bring Your Best Game to Any Special Occasion or Event
TopGolf Orlando is the perfect place to create a memorable and unique event. This vibrant and lively venue is great for that special date night, a bachelor or bachelorette party, birthday celebration, family get-together, or any other event you may want to create.
They specialize in special events and are happy to organize your tournament, kids' or teens' birthday party, or any other special occasion or theme you can dream up. You can book your bay up to 7 days in advance.
If you are planning an event and have seven or more people, speak with an event sales associate, and they will help you plan all the details to make your event stellar. The Topgolf team is happy to make special arrangements for birthdays or other events, including the cake!
5- High Tech Can Improve Any Player's Game
Topgolf Orlando Fl. uses a patented technology to track your golf ball and score each of your shots based on the target you enter. Toptracer will track the flight path of every shot and display it right on your bay's HD screen. This immediate feedback helps you adjust and improve your shots, and can provide some laughs too!
6- Hit the 19th Hole on the Rooftop or Order From Your Bay!
Enjoy food and beverage from the comfort of your bay while you play. Just tell your bay host (server) what you're in the mood for when you're ready. The full bar features classic cocktails and local brews, and the executive chef serves an inspired menu of bites and shareable goodies. Buffalo Chicken Dip or Cheesy Macaroni Bites may be just what you need to help you hit that ball straight. If you are up for a hardier meal, try the delicious Smokehouse Burger, Fried Chicken sandwich, or a fresh Cobb Salad. Save room for dessert specials like the Injectable Donut Holes or a Double Trouble Cookie Skillet with ice cream, caramel sauce, and powdered sugar. Yum!
7- Promotions and Specials
Topgolf offers plenty of specials and promotions. Just check their site before you book. Available promotions will vary by season, time of day, and day of the week. Here are some of the offers you are likely to see:
Half Prices Tuesdays. Topgolf loves Tuesdays, and so will you if you take advantage of their half-price gameplay offer every Tuesday. Put that one on the calendar.
Healthcare workers and teachers enjoy a special "thank you" discount of 10% off Topgolf gameplay and other benefits.
For Our Heroes- Military (active and veterans), police, fire, and EMS personnel get 10% off gameplay and additional perks. Just bring your ID and hit "em long!
Friends - Refer a friend to join Topgolf Mobile Alerts. When they sign up, they'll get a $10 discount code, and so will you. That's what friends are for.
This driving range-arcade-restaurant-bar hybrid destination is sure to please everyone in your party. Here are some tips you should know to get the most out of your experience.
AGE POLICY: Anyone under 16 must be supervised by a guest 21+ at all times. Anyone under 18 must be supervised by a guest 21+ after 9:00 pm.
Topgolf Orlando Fl. is located at 9295 Universal Boulevard, Orlando, Florida.
Before you go, download the Topgolf App so you can access your game history, make bay reservations, and control the content on your bay TV. Make reservations easily and reload your player card on this handy app. And don't forget to check how your score stacks up on the leaderboard.
And good news, if you haven't had enough, stop next door at Andretti Indoor Karting & Games to keep the fun and competition coming.