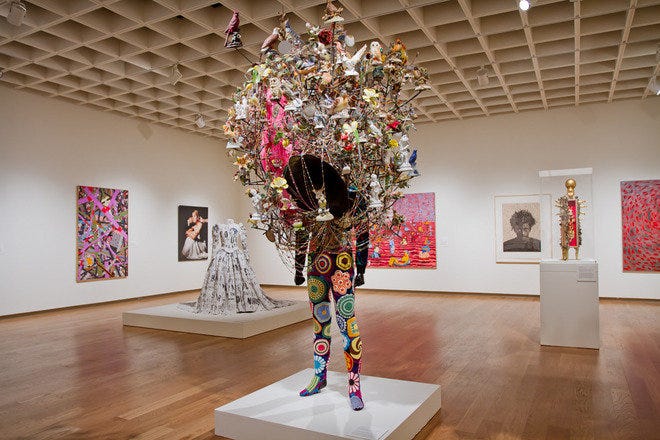 Orlando is known for the magic and wonder that the many theme parks and attractions bring. When you're ready to take time out from the parks and attractions, a diverse and rich cultural scene awaits. The often-overlooked Orlando arts scene is robust and full of surprises and deserves to be added to any Orlando itinerary. There are dozens of museums in Orlando.
Whether you're interested in history and exploring the past or want to be immersed in gorgeous paintings, sculptures, and objects of art, you are sure to find a complete cultural experience in Orlando. Our guide to Orlando museums will let you in on the top galleries and museums that you will not want to miss. From independent galleries to world-class ones, art lovers are in for a real treat!
The Charles Hosmer Morse Museum of American Art
Lovers of Tiffany glass will be in awe of the world's most extensive collection of Louis Comfort Tiffany's work. The Morse, one of the most popular museums in Orlando is located in quaint and charming Winter Park, which is well worth a visit too. This unique museum houses Tiffany's jewelry, leaded-glass lamps, and his chapel interior from the 1893 World's Columbian Exposition in Chicago. Personal items from his estate are part of the permanent exhibits. Take a moment to watch the short informational video before touring the museum to gain additional insight into the galleries.
Visitors during the holiday season may catch an extra special treat as Christmas in the Park kicks off the holidays by lighting up Tiffany windows in Central Park to the sounds of the holidays presented by the Bach Festival Choir and Brass Ensemble. Check with the museum for their visiting exhibits and lecture calendar.
Pro Tip - Be sure to sit down when you enter the Tiffany cathedral and wait for the "show." Every few minutes, the lights in the room will change from bright to dim to showcase the various ways the stained glass reflects color.
The Mennello Museum of American Art
Founded in 1969 by renowned artist James Mennell, the Mennello Museum of American art opened its doors in 1980 and quickly became one of Central Florida's premier institutions for contemporary fine art. Today, this most popular of Orlando museums showcase artists' work across America while also hosting rotating shows featuring emerging talent.
In addition to its permanent collection, the Mennello features temporary exhibitions, performances, lectures, films, and other activities throughout the year. Along with its impressive collection of contemporary art, the Mennello Museum of American Art features rotating temporary exhibitions featuring artists from across the country.
This cultural gem is housed in what was once a private home, creating an intimate space for its wide range of exhibits. The Mennello features American art of many genres, including a permanent collection of paintings by primitive artist Earl Cunningham.
This striking building, designed by renowned architect Michael Graves, houses one of the world's largest collections of American art. From the 19th century to the modern day, the collection features works by artists like Winslow Homer, Thomas Hart Benton, Edward Hopper, Georgia O'Keeffe, Norman Rockwell, and Andy Warhol.
The Mennello Museum regularly presents cutting-edge temporary shows featuring emerging artists and the established National Black Arts Festival. Outside, enjoy the lakeside garden where the Mennello hosts the annual Orlando Folk Festival, held the second week in February. Check for their calendar of events.
Pro Tip: Every second Sunday of the month is Free Family Funday. From 12 pm to 2:30 pm, families can enjoy a miniature fine art project and free docent tours.
Titanic: The Artifact Exhibition
Journey back in time to April 1912 as you visit Titanic: The Artifact Exhibition. You'll view more than 300 artifacts and full-scale room recreations and interact with costumed actors. Learn the stories of real-life passengers and crew who perished in the tragic wreck and learn how artifact recovery and conservation are done.
The Ship of Dreams Guided Tour will teach you all about the ship, her accommodations, and technological advances at the time. On weekends, the Titanic Adventure for Kids Guided Tour is designed for the little ones and includes a fun scavenger hunt. The Adventure map will take them through the exhibition room by room, and the costumed Historian will guide this special tour. The Heroes of the Titanic Guided Tour tells the stories of Thomas Andrews, Jr., Margaret Brown, and other heroes who sacrificed their own lives for others. This is one of the more unique of Orlando museums.
Pro Tip: Florida residents can get $5 off admission by showing a valid Florida driver's license.
Located in beautiful Loch Haven Park, The Orlando Museum of Art is nestled amidst age-old oak trees and sprawling lawns, making it a great place to relax and get away from the crowds. They have collections of both ancient and contemporary works. View textiles and pottery from Africa and Mesoamerica, American paintings and sculptures, modern graphics, and mixed media pieces. The museum emphasizes its contemporary collection, and with at least 12 exhibits that rotate annually, it is an art lover's delight. The collection is extensive and eclectic, and the exhibitions and programs are excellent. This is a must-do for visitors who want to learn about the rich history of Orlando and view historical and modern pieces of art.
Pro Tip: Visit "Orlando's Original Art Party" on the first Thursday of every month from 6 pm to 9 pm to hear live music and meet local artists.
The Cornell Fine Arts Museum is located on the beautiful Rollins College campus, with its fine architecture and lovely grounds. The Cornell is home to thousands of works, including the only European Old Masters Collection in the Orlando area, and features ancient and contemporary treasures. Traveling exhibits supplement the permanent collection bringing the work of renowned masters and some lesser-known artists in various media. Part of the museum's collection can be viewed at nearby Alfond Inn, where gallery talks are often hosted.
This is a great collection, showcased in a gorgeous location.
Get interactive and "hands-on" at the Orlando Science Center. Enjoy four floors of interactive science exhibits showcasing weather and engineering, live animals, and lots more. Experience the gale force winds of a Category 1 hurricane, watch a famous Florida gator be fed, and explore real-life sea monsters that ruled the prehistoric seas.
Plan an evening SkyWatch at the Crosby Observatory for a unique evening. Enjoy 3D movies and planetarium shows, and learn about the towering dinosaur and the wonders of space. This museum offers programming that is sure to engage visitors of all ages, from toddlers to seniors.
Albin Polasek Museum & Sculpture Gardens
Tour the stunning home of Albin Polasek, a famous Czech sculptor. Nestled on the shore of Lake Osceola, this home is on the National Register of Historic Places. You'll enjoy paintings, sculptures, and other items that showcase the life and legacy of Polasek and other American artists. The outdoor gardens are filled with sculptures and should not be missed. You'll view almost half of this famous artist's body of work.
Pro Tip: This is a fantastic place to enjoy a picnic on the outside grounds as you view the sculptures and people watch.
This unique venue in downtown Orlando houses a collective of diverse art galleries, all under one roof. They feature a rotating collection of local and international artists, with new pieces continually being added. Enjoy downtown Orlando and view some exciting art.
Art-lovers will enjoy the Rollins Museum of Art at Rollins College in beautiful Winter Park. Admission is always free, and they house an extensive permanent collection of over 5,600 pieces, encompassing everything from ancient art and artifacts to contemporary works. Enjoy the day in this quaint town, and stroll the beautiful Rollins College campus.
They also host rotating exhibitions and an ongoing children's education gallery with fun, hands-on activities to encourage creativity and cognitive skills. Stroll over to the Alfond Inn and view The Alfond Collection of Contemporary Art, which showcases curated pieces from the museum.
Zoa Neale Hurston National Museum of Fine Arts
Historic Eatonville is one of the oldest African-American communities in the United States and was the childhood home of author Zora Neale Hurston (Their Eyes Were Watching God.) Hurston's legacy is honored with the annual ZORA Festival each winter and the Zora Neale Hurston National Museum of Fine Arts. The museum spotlights her literary contributions and provides gallery space for artists of African descent.
Art, Science, and More- All in Orlando
When planning your Orlando itinerary, be sure to schedule time away from the parks. Orlando is all grown up, and the art and culture lovers are sure to find a vibrant and sophisticated art scene. Orlando museums offer something for every taste, from history, science, and the art of all periods. Here are some other Great Things to do in Orlando. If you are traveling without the kids, here are some other Epic Things for Adults to Do in Orlando.