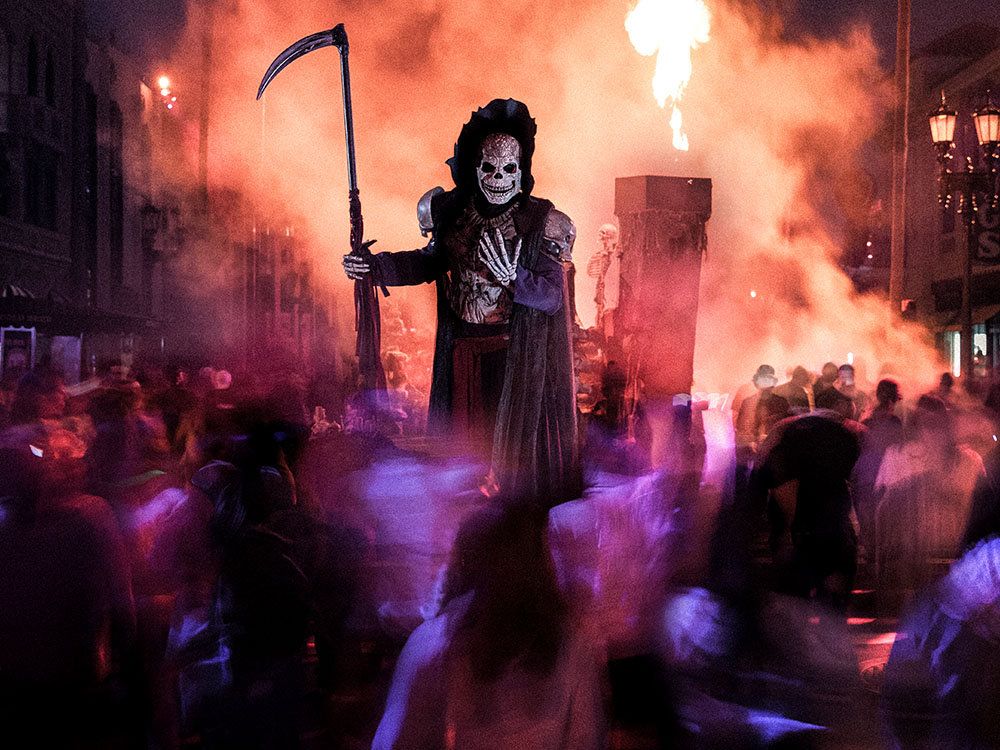 Running until November 4th on select nights as a separately ticketed event, Universal Orlando will once again host Halloween Horror Nights.
Haunted Houses
Stranger Things 4- Season 4 of Stranger Things is covered in this house with Vecna at it's center.
The Exorcist: Believer- A brand new unreleased film about two missing girls who were found with no memory of what happened to them but returned with the ultimate evil.
The Last of Us- Based on the famous Naughty Dog's video game, follow Joel and Ellie survive a Clickers world.
Chucky: Ultimate Kill Count- The serial killer doll, Chucky, is back hijacking his own haunted house to get to his ultimate kill count.
Universal Monsters: Unmasked- Located in the Paris Catacombs, you will meet new monsters, the Phantom of the Opera, Dr. Jekyll and Mr. Hyde, the Invisible Man, and the Hunchback of Notre Dame.
Dr. Oddfellow's Twisted Origins- Dr. Oddfellow's menacing menagerie of twisted oddities will have you selling your soul.
Dueling Dragons: Choose Thy Fate- You must choose a path and a victor when two warlocks are turned into dragons after trying to steal Merlyn's spell book.
YETI: Campground Kills- A 1950s campground site is overrun by huge, menacing yetis.
The Darkest Deal- After meeting The Collector and trading his soul for musical glory, Blues musician Pinestraw Spruce must face the terrible price of fame.
Bloodmoon: Dark offerings- A colonial-era village with moon-worshippers at their fall festival who witness a blood moon taking it as a sign to hunt down any non-followers.
Scare Zones
Dr. Oddfellow's Collection of Horror, Dark Zodiac, Jungle of Doom: Expedition Horror, Vamp '69: Summer of Blood, and Shipyard 32: Horrors Unhinged.
Live Entertainment
Nightmare Fuel Revenge Dream- A pyro and aerial performer show with metal and electronica music.
Death Eaters Encounter- For the first time ever in Diagon Alley, a group of Voldemort's followers will roam looking for others to show loyalty.
Rides & Attractions
Open during the event, Revenge of the mummy, The Wizarding World of Harry Potter Diagon Alley, Men in Black Alien Attack, Transformers: The Ride-3D, and Hollywood Rip Ride Rockit.
Jeeves Florida Rentals is a full-service vacation rental & property management company located in Central Florida. For over 13 years we have managed over 600 luxury Orlando vacation rental homes and condos just steps away from the Orlando Attractions like Disney World, Universal Studios, and SeaWorld. Our inventory consists of properties ranging from 2-bedrooms to large 14-bedroom mansions in the Kissimmee and Orlando area. To take a look at what's available for your next vacation to Orlando, click here!
Jeeves also offers discounted theme park tickets through Kissimmee Guest Services, click here to purchase!