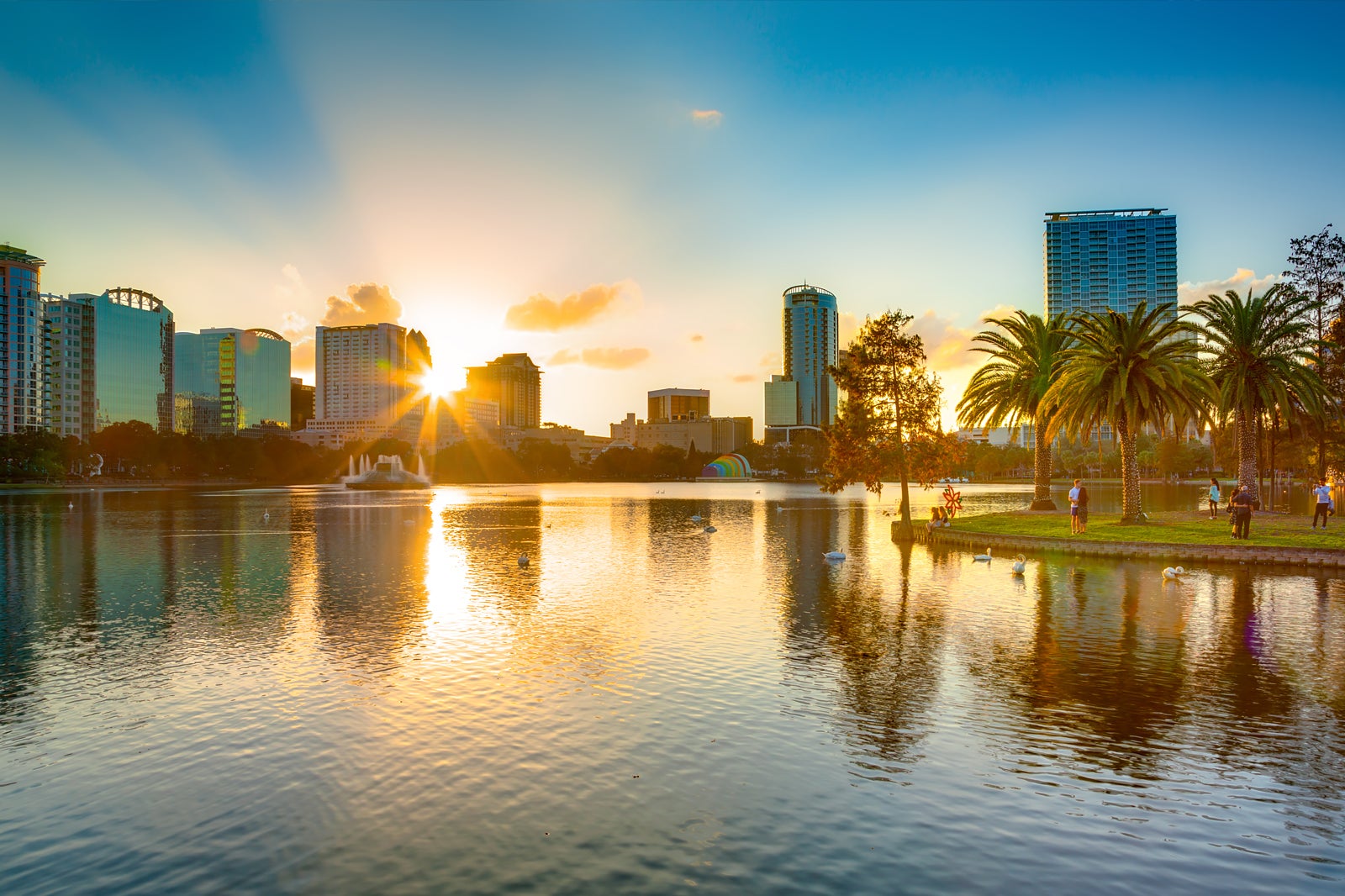 Orlando Weather Monthly Outlook- A Guide to Planning Your Trip
Are you planning your trip to Orlando, Florida? We've got all you need to know about the Orlando monthly weather outlook so you can "know before you go!" Orlando is known for its mild, sunny weather with an average temperature of 72 degrees. Orlando can be super-steamy in the summer months, making it an excellent time for visiting the fantastic waterparks, while winter brings cooler weather and is a great time to beat the heat.
If you want to avoid weather extremes, look at the average rainfall and temperatures in spring and fall. Florida has beautiful weather year-round, but many choose to avoid the peak heat and humidity or the colder winter temperatures in favor of the more moderate weather. Keep in mind that it rains an average of 187.6 days, though often the showers are light and quick. Regardless of when you visit Orlando, every season has a reason to stay.
The best place to start is to take a look at our monthly and seasonal overview as you plan your dates. Several weather sites provide detailed Orlando monthly weather forecasts, including predicted temperatures, rainfalls, and humidity for 30 days out, and you'll want to check these as your trip approaches. You'll also find sites with historical averages of daily highs and lows and precipitation. We've distilled that information into seasonal overviews, so you don't have to! Look at our seasonal guidelines for tips on packing the right clothes and picking the travel period that best suits your plans, itinerary, and weather preferences.
Historical highs and lows are just that- a historical picture that will give you an idea of what to expect. If the weather is a critical determinant in when you visit, this is your best planning tool. With average highs of 83 degrees and lows of 62, Orlando delivers nice weather year-round, but the averages vary significantly by month. The key considerations are high and low temperatures, humidity, and average daily sunshine hours. Temperatures may run around 5 degrees higher than the historical averages on a hot day and 5 -10 degrees cooler during a cold snap.
Central Florida weather can be unpredictable, but as a rule, July and August are warmest, with December and January the coolest months. Maximum rainfall usually falls in June, although afternoon showers are common throughout the summer.
Lightning often accompanies the summer showers, so heed any warnings about lightning.
Spring Weather in Orlando
Spring is a gorgeous time to visit Orlando. The flowers and vegetation are in full bloom, and the highs range in the high 70's and low 80's. The rainfall is moderate, and the humidity runs around 50%.
The Florida humidity can be overwhelming and is a prime consideration for many. With an average relative humidity of 70 degrees, March is the least humid month. With an average of 11 days of rain, it is also one of the driest months in Orlando.
Summer Weather in Orlando
Summer in Orlando is considered from May through September. The grounds of the resorts and parks will be lush and green, but it will be warm. The mid-day temperatures can exceed 90 degrees, so this is the time for water babies to hit those water parks.
Get the most out of your days with a June visit, when you'll find the longest day of the year with an average of 13.9 hours of daylight. You'll find the most sunshine in July with 10.8 hours of sunshine. Maybe that's why they call it the Sunshine State.
August is the steamiest month, with average highs of 91 degrees and average lows of 76.8 degrees. Add the humidity to that, which is highest in August and September at 77 degrees, and you have some heat! August is also the rainiest month, with 24.6 days on average of precipitation.
Fall is a fantastic time to visit Orlando. The season runs from Labor Day to mid-December. While September can be warm and sunny, the average highs are low 70s, and you may get some nice, crisp air. Bring a jacket.
December is one of the driest months in Orlando, with 11 days of rainfall. It also has the shortest days with just 10.3 hours average of daylight.
Winter Weather in Orlando
While winter is cooler in Orlando, it is still more pleasant than most parts of the country, and the rainfall is light. Humidity is 50%, but you may find it too cool for swimming, though most are heated.
January is usually the coldest month in Orlando, with an average high of 68.5 degrees and an average low of 51.6 degrees.
Average Orlando Weather Monthly Temperatures at a Glance
Packing for Orlando and other tips
Prepare for temperature changes throughout the day by dressing in layers, and bring a lightweight jacket. Rain is common, particularly in the summer months, so bring a light rain poncho, an umbrella, and a spare pair of shoes. In summer, pack a swimsuit, flip-flops, and shorts. In winter, you will need a jacket when the sun goes down.
The high humidity months of summer can be a problem for the elderly and the very young. Stay hydrated, and be sure to take frequent breaks from the direct sunlight and heat. Use sunscreen and wear a light, brimmed hat to keep the sun at bay. Find more Disney Secrets and Tips.
When Should You Visit Orlando? Orlando monthly weather averages are usually one of the primary considerations for choosing your travel time, but not the only. You'll want to consider crowd size, pricing, and lots more. Our favorite times to travel to Orlando based on all of these things are Spring and Fall. Check out the Best Time to Visit Disney for more tips and considerations.