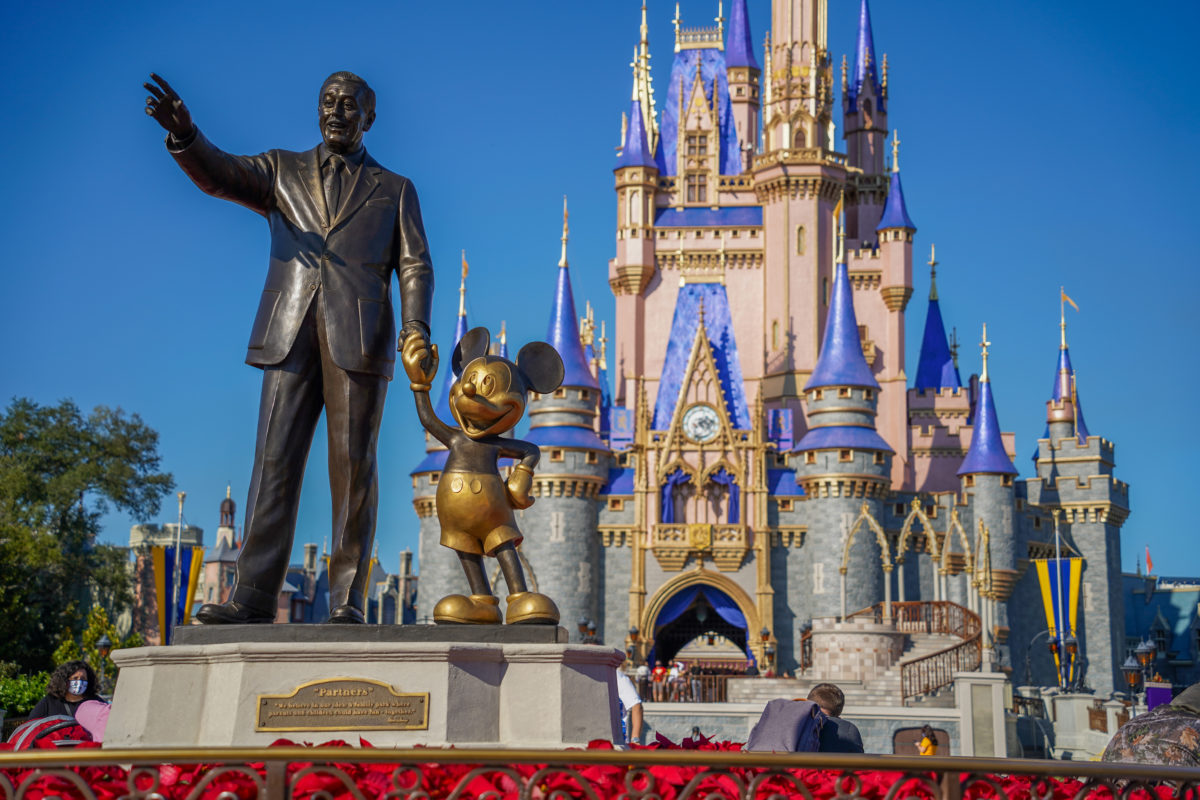 Walt Disney World in Orlando is a wonderland full of magic, innovation, excitement, and fun. It is the most visited vacation resort in the world. Choosing your best time to go to Disney World will depend on crowds, weather, value, and how you like to travel.
The Magic Kingdom theme park is reported to have welcomed over 20 million guests in 2019. That's over 57,000 guests per day in one park. The good news is that even in one of their most-visited years, the park was operating at 57% capacity on an average day. The theme parks are designed to handle massive crowds, and it is said that Magic Kingdom can hold more than 100,000 guests, but Disney does manage capacity for safety and guest enjoyment.
Visiting when the crowds are smaller is a good way to have a great visit and to get the most for your money. Long lines can be bothersome, and they mean you get fewer rides for your money. You may also have a tough time getting on the most popular rides and attractions. So when you choose to visit Walt Disney World is essential in determining your best time to visit Disney World. Disney has done a great job spreading the attendance out over the year with special events, special pricing, and promotions. Even if you must travel in one of the peak times, you can still optimize your stay by carefully picking your arrival and departure dates. Planning your park days around expected crowds can also help you get the most magic out of your vacation.
The second major consideration for people planning their Disney vacation is the weather. The Sunshine State can be extremely hot in the summer and surprisingly cool in the winter months. We'll share our outlook on the average temperature you can expect by season to help your planning.
Finally, peak travel dates bring higher rates and fewer promotional offers with them. So, your travel dates will impact your budget.
Our suggestion is to base your travel decision on a mix of attendance, weather, value, and seasonal entertainment and social events.
Crowd Control
Seasons - Disney is designed to handle massive crowds, and you can expect them regardless of when you travel. You can, however, choose dates with smaller crowds, so if that is important to you, here are some planning tips.
The general rule on Disney is that crowds are largest during school vacations, holidays, weekends, and during the summer. February vacation may bring the largest crowds, along with Spring Break, Thanksgiving week, Christmas, and other holidays like Memorial Day and Labor Day. When families are consumed with school and work, the crowds will be smaller. The forecast for 2021 suggests a good time to travel is the last two weeks of August and the entire month of September.
You can expect the crowds to be more manageable from January 2nd until President's Day, the week after Labor Day until the weekend before Thanksgiving Day, and the week after Thanksgiving until the weekend just before Christmas.
Crowds also swell during the holidays and special seasonal events. The holiday season is extra festive with decorations and entertainment and are phenomenal in the parks.
Some popular annual events are the Epcot International Food & Wine Festival and Flower & Garden Festival. The Christmas and New Year's events are spectacular and well-attended crowd-pleasers. New to this year, Disney's After Hours Boo Bash celebrates the fall season.
Prices and Specials
Disney continues to add attractions and rides, restaurants, festivals, and things to do, and along with that, the prices continue to rise. The best way to save on your trip is to pick one of the "off-peak" times to travel. The cheapest times to travel will be when the crowds are the smallest. With better pricing and smaller crowds, this makes those travel times a "win-win." Read more on the best Disney rides with our article Guide to the Best Disney Rides.
The winter months and other slower times and certain weekends are when Disney is most likely to run special offers and promotions to attract more visitors. The most expensive times to travel are peak seasons like holidays, school vacations, weekends, and during special events and festivals.
Disney has also introduced tier pricing for theme park tickets. There are three tiers of single-day theme park tickets - value, regular, and peak days. A regular ticket for Magic Kingdom can range from $115 to $124 and decrease to $107 on value days.
Weather
Each season has a great reason to travel to Walt Disney World. Remember, the weather in Florida is generally pretty good all year round. The extreme heat and humidity can be overwhelming for some, and rain showers can be expected in the summer months. When it comes to weather, it's best to visit in spring and fall. The temperatures are warm but still comfortable, and the humidity is a bit lower.
When planning, take a good look at historical highs and lows to get an idea of what you can expect. Assume that temps may be about 5 degrees hotter on a hot day than the historical average and in cold snaps as much as 10 degrees cooler. Prepare for that. Bring a lightweight jacket, light cotton clothing, dress in layers, and prepare for rain. Pack a light poncho and a change of shoes as well.
Keep an eye on the Climate Charts page for the Orlando International Airport for a good look at weather averages. Below are some seasonal guidelines.
Spring at Walt Disney World - The spring season at Disney can be a beautiful time of year. The flowers, vegetation, and trees are in full bloom, and highs ranging in the low 80s, with the rainfall moderate and humidity a comfortable 50%. The sun is shining, and there is plenty of daylight. Spring in Orlando is delightful.
Summer At Walt Disney - Summer at Disney is a long season, extending from May through September. School is not in session and the days are longer, so the theme parks have longer hours, making it an excellent time for family travel. The mid-day temperatures often exceed 90 degrees and have a humidity factor of 61%! The rainfall also averages 6.4 inches per day. If water parks and pools and long days in the parks are your things, summer is for you, and maybe your best time to go to Disney. The grounds are at their best and will be lush and gorgeous.
Fall at Disney World - We think the best time to go to Disney World is during the fall! The weather can be amazing. The season is pretty short, running from Labor Day to mid-December. The first few weeks can still be on the warm side, but in general, average highs are in the low 70's, and there is less rainfall than in other seasons. Humidity is lower, and you can hope for crisp, cooler air with mild temperatures. You'll still have 8 hours of sunlight and the evenings get cool enough for a light sweater or jacket.
Winter at Disney World - Winter in Orlando still beats winter in most parts of the country unless you are a snow lover. The average high temperatures are a comfortable low 70's, and the rainfall is light. Humidity at 50% is manageable, and the evenings can cool down significantly, so pack accordingly. Keep in mind there will be fewer daylight hours, and you may find it too cool to jump in the pool or enjoy parts of the water parks. The theme parks and resort grounds are always beautifully groomed.
Your Best Time to Go to Disney World
The best time to go to Disney World will depend on your personal preferences, budget, and schedule. There is no single time that is the best time to visit Disney World for everyone because we all have different priorities and goals for our vacations.
There are times when the weather will be preferable to you and times when the crowds will be smaller and the prices lower. If traveling during the cheapest time is your top priority, base your dates on that. Look for fall and early January values.
If traveling during the busiest times or most crowded times does not bother you, then the holiday period is a fantastic time to experience Walt Disney world's magic.
If you can only travel during the summer months, check out our Travel Tips to make sure you are prepared for the Florida sunshine. If you "can't take the heat," summer will not be your best time to visit. So think about your priorities and select an alternative time for you to travel.
Study the weather, the pricing, and watch for specials before you schedule your vacation. Think about how you like to travel, how you feel about crowds and the warm weather. That will guide you to picking your best time to visit Disney World. Regardless of what dates you choose, you are sure to have a magical and exciting vacation to Walt Disney World Resort.